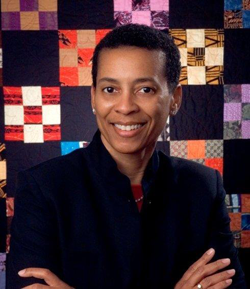 Gyleen Fitzgerald makes quilts that blend color, pattern, and texture to provide a contemporary essence in traditional quilting. Her strength as a quilter is demonstrated by the infusion of engineering tools and innovative techniques to simplify visually complex quilts. She shares her enthusiasm for quilting through interactive lectures and workshops. As a writer, Gyleen centers on haiku poetry, quilt project books, magazine articles and children's books.
An avid quilter, Gyleen has earned Best of Show honors and as a publisher, she is a Gold Medal winner for Quilts: Unfinished Stories with New Endings. She is best known for inspiring Trash to Treasure Pineapple Quilts and the creation of the Pineapple Tool by Gyleen.
Gyleen has appeared on The Quilt Show and Lifetime TV promoting a contemporary spirit in traditional quiltmaking.
For Gyleen, dreams hold no limits. Ray, her husband, is her shining light and quilting is her passion; together they color her world in a very special way.
Gyleen is a Philadelphia, PA native, who spent her formative years in Taiwan and Japan.