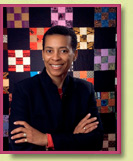 Colourful Stitches is committed to providing you with the finest artistic expression at an affordable price. We are inspired to redefine color by creating unique products: elegant books, quilt patterns and tools, dynamic workshops and lectures that will compliment your lifestyle and empower your dreams.
Come on in and let us colour your world!

Gyleen is on The Quilt Show!
Gyleen had a fabulous time with Alex and Ricky at The Quilt Show. Watch, for FREE, as she spends another fun, informative episode discussing her Bricks, Cobblestones and Pebbles adventures and using the Angle Trim Tool for perfect pieced triangles. Did we mention it's Free?!
The full video is available from June 11 until June 18, 2017. CLICK HERE between June 11 and June 18 to watch.
Check out some of the fun she had.
For more information check out the What's New page.