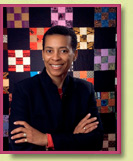 Colourful Stitches is committed to providing you with the finest artistic expression at an affordable price. We are inspired to redefine color by creating unique products: elegant books, quilt patterns and tools, dynamic workshops and lectures that will compliment your lifestyle and empower your dreams.
Come on in and let us colour your world!

Gyleen is on The Quilt Show!
Gyleen had a fabulous time with Alex and Ricky at The Quilt Show. Watch, for FREE, as she spends another fun, informative episode discussing her Bricks, Cobblestones and Pebbles adventures and using the Angle Trim Tool for perfect pieced triangles. Did we mention it's Free?!
The full video is available from June 11 until June 18, 2017. CLICK HERE between June 11 and June 18 to watch.
Check out some of the fun she had.
For more information check out the What's New page.
Dear Quilting Friend
It's here! My second children's book (co-authored with Craig K. Matthews), In Search of Dragon Eggs...The Legend of the Black Knight in the Land of Delphia with the quilt companion book, The Queen's Court. My joy and excitement are hard to contain. The children's book contains a STEM experiment to dye the dragon eggs. Great for the classroom, home schooled and for the young at heart. The quilt is a 12-block sampler depicting the shields of the 12 Virtuous Knights.
The love affair grew stronger when Polygon4 and Polygon5 joined the family! That's 21 shapes - the perfect Polymates that play well together. Check out all the new patterns that combine shapes for the next generation in my love affair with Polygons. And if that wasn't enough, I've partnered with Paper Pieces to make all 21 shapes available in miniature! All Polygon Series patterns can be made in miniature. Polygon Acrylic Templates is equal to Polygon, Polygon2 and Polygon3 and Polygon Companion Acrylic Templates Set is equal to Polygon 4 and Polygon 5. Don't forget to get the Polygon Acrylic Strip Bar used to create pieced negative space for your modern designs.
Just want to wet your feet with the polygon tools? Start with a single pattern that only uses a single polygon tool; look for the Polygon Series logo.
Click here to check out our new Tools Section!
--Gyleen Fitzgerald