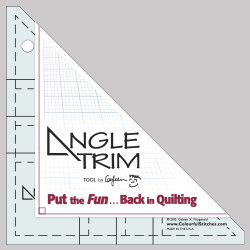 Angle Trim:
Need to trim squares into triangles? The Angle Trim tool is just what's need to trim pieced squares, squares or strips into accurate triangles. Works for 2 1/2" to 6 1/2" squares or piecing. Great companion to Bricks, Cobblestones and Pebbles Book.
Click here to purchase Angle Trim.
Click here for cutting instructions.
---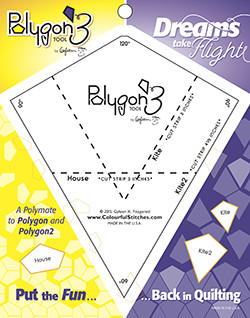 Polygon3:
Now your dreams can take flight! Polygon3 Tool adds the House and 2 sizes of the Kite shapes to the family. Shapes cut from a 3" or 4 1/2" strip. I did all the math for easy strip cuts and they will sew like a breeze with easy Butterfly Seam piecing. A compatible Polymate to both Polygon and Polygon2 Tools. With Polygon3 Tool, there are now 7 shapes in the family...you're going to love it. Let's put the fun back in quilting. Check out the newly release patterns that feature Polygon3 Tool: Prism, Bending Star and Five Rings.
Click here to purchase Polygon3.
Click here for cutting instructions.
---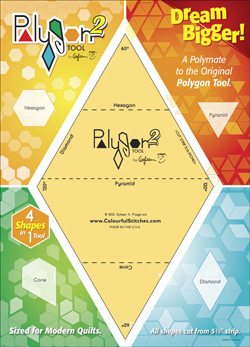 Polygon2:
Make your bigger dreams come true with Polygon2. Great for "Modern Quilts" and is the Polymate to the original Polygon Tool. All 4 shapes (Diamond, Pyramid, Hexagon and Cone) cuts from 5 ½" strip.
Click here to purchase Polygon2.
Join me on Facebook to chatter about the challenges, post your progress, get encouragement and be inspired by the possibility of falling in love…with Polygons. They truly are "The Shape of Things to Come".
Are you ready for a challenge? You're one click away…
---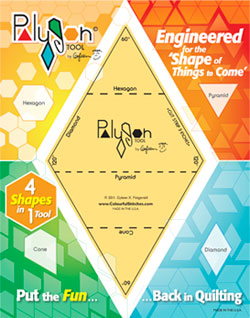 Polygon Tool
Engineered for the shape of things to come. Easy to use and plays well with others be it diamonds, hexagons, pyramids or cones. One tool does it all. And the best part...it is designed to use 3" cut strips for all shapes and is a stash buster's best friend. Tools by Gyleen will put the fun back in quilting. Click here for cutting instructions.
Click here to purchase Polygon Tool.
---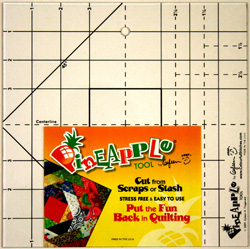 The Pineapple Tool
Come turn your scraps, bits and pieces into a stunning Pineapple Quilt that is one of a kind and didn't require paper piecing. The Pineapple Tool has just enough markings to make a quick and accurate pineapple blocks using 1 ½" strips. You don't even need to worry about bias, just start cutting what you have jammed into boxes and make a Trash to Treasure Pineapple Quilt. Go totally random and create a mosaic look or divide by light and dark for a traditional look. Click here for instructions.
Click here to purchase the Pineapple Tool
Join the Trash to Treasure Pineapple Challenge and post your results on Facebook.
Engineered by a quilter with a quilter in mind!
"The ruler is truly easy to use." Read the full review with step by step pictures.-- pursuitofquilts.blogspot.com
---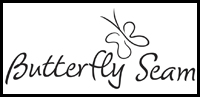 Butterfly Seam... click here